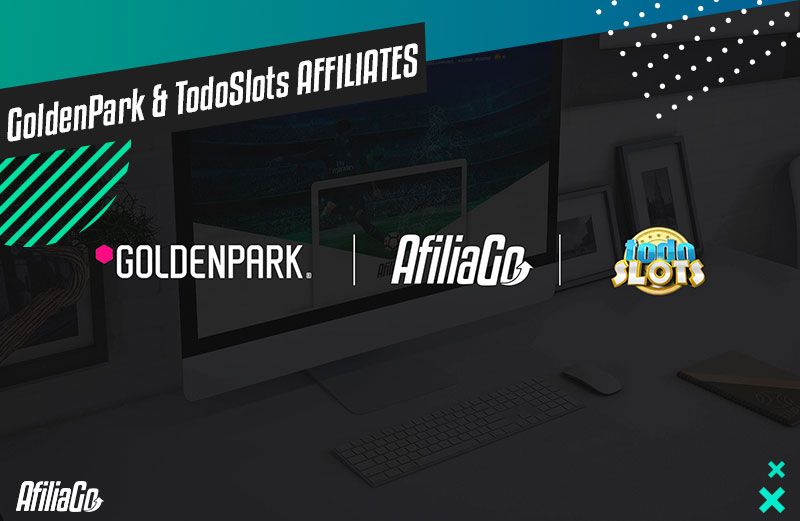 The best affiliate program with GoldenPark and TodoSlots. Today in AfiliaGo we talk about the affiliate program of the gambling operators GoldenPark and TodoSlots.
You have a great opportunity to work with these both big brands of Spanish gambling.
We bring you exclusively the affiliate programs of GoldenPark and TodoSlots, and you can apply for them only in AfiliaGo.
Promoting these brands you can get one of the highest commissions in the gambling affiliate market, so this is an opportunity you must not let go.
If you have a gambling specialized web or online channel and you want to become an affiliate, sign up in AfiliaGo and we will give you with all the tools you need to promote our campaigns and start monetize your website.
Remember that we offer one of the highest commissions in gambling affiliate world per each player you refer to our campaigns.
If you want to become an affiliate of one of the best affiliate programs in the world, continue reading this post because you will discover all you need to know.
You will discover the GoldenPark campaigns, specialized in Casino and Sports betting.
And you can get the TodoSlots campaign too, specialized in Slots.
1. GoldenPark affiliate program.
With the GoldenPark affiliate program, you have the opportunity to promote a big Spanish gambling brand in your website or online channels.
If you go to goldenpark.es you can find both sections: Casino and Sports betting.
Actually GoldenPark has an stronger section of Casino games, so we can say that the Sports betting section has so many advantages and good things to consider it as one of the best Sportsbook in Spain.
The GoldenPark Sportsbook has variety of sports events and the highest odds.
Other of the advantages of the GoldenPark Casino and Sportsbook platform is that they have a simply system to deposit an withdrawals. You only have to wait 5 minutes to receive your money.
You can deposit with many payment methods like credit or debit cards (Visa and MasterCard), PayPal, Skrill, Neteller and Paysafecard.
Of course, GoldenPark has gambling license granted by the DGOJ (Spanish regulator).
You can apply for the GoldenPark campaigns and promote them in your online channels to monetize them easy, because you can promote one of the best Casino and Sportsbook brands in Spain.
Continue reading to discover how to become a GoldenPark affiliate.
2. TodoSlots affiliate program.
TodoSlots can be your reference brand to promote a TOP gambling operator specialized in Casino and Slots games.
This Brand is a MGA Games online Casino specialized in Slots games, where players can choos and play a big variety of Slots.
In this platform you can find Slots games: Slots bar and Video Bingo
The website is really simply and the Slots games are arranged to find them easy to start play.
TodoSlots offers all the advantages to improve the UX (User Experience), and the players have a very good play experience.
This operator have variety of deposit and withdrawal methods: Skrill, Neteller, Paysafecard, Visa, Mastercard, Paypal and Wire Transfers.
3. How to become a GoldenPark and TodoSlots affiliate.
How to become a GoldenPark and TodoSlots affiliate?. You only have to follow these steps.
You only have to sign up in AfiliaGo, that is the exclusive partner of GoldenPark and TodoSlots where you can find the affiliate program of these both brands.
Once you sign in, you only have to access to the Campaigns section, and you can choose and apply for the brands you want promote.
Choose and apply for GoldenPark Casino, Sportsbook or TodoSlots campaign.
In this Campaigns section, also you can see the CPA commission that we pay for each player you refer and other important details of the campaign.
Once you have choosen the campaigns you want to promote, you have to push the "request the campaign" button.
Our affiliate team will approve your applications and then we give you all the tools you need to start the promotions like: tracking links, banners…
And we will pay you a CPA commission for each player you refer through your tracking link that make the minimum deposit and wager.
You also can find in AfiliaGo so many free tools to promote the brands like banners, graphic design tools…
So you can see that is very simply to start promote our GoldenPark and TodoSlots campaigns and start monetize your website or online channel.